Over the summer months, I had a goal. It was to NOT check out any books from the library (I succeeded...except for a couple times ;)) and read all of the un-read books that I own. Believe it or not, I have had books for more than
2 years
that have still not been read. -cringe-
Unfortunately I did
not
complete my goal (hey there was like 26 of them, plus I bought some new ones...) but I did read many of them. I found some new favorites, realized I will never read some of them again, and didn't even finish a couple. So, I thought it'd be fun to compile a list of the books I read along with "mini reviews". Hope you enjoy!
Catrin in Wales~Mabel Esther Allan
I absolutely loved this book. It was a light, sweet, refreshing read perfect for a cozy cup-of-tea rainy day. New favorite. Read my full review
here.
On Hope's Wings~Melody Carlson
Light and easy. It was fine, Nothing special and kind of boring although the 1940's time period and characters were quite nice.
Hidden Pearls~Hayden Wand
I enjoyed this book very much, although (and I hate to say it) not
quite
as much as I expected. Sometimes it felt a little slow and the beginning of the first chapter confused me because a lot of characters were introduced at once. I did
love
the characters, though! Constance was such a fun and lovely heroine. Edward was the perfect hero. Jack and Merry were absolutely adorable, as were Margaret and Arthur. I also found this book fun to read because it's the first published book of one of my favorite bloggers!
Here is her blog:
http://haydenwand.blogspot.com/
To Kill a Mockingbird~Harper Lee
Let me say right off that I have not finished this book yet. Did I like it? Very much! I loved the style and the way the story progressed. I adored reading about Scout and Jem and their adventures. And Dill! And yes, who can forget Atticus? He was great. But, I was taken aback by the amount of language and the casual use of the Lord's name that was scattered through the book. They were not necessarily
mis
using His name, but it was enough that it made me wonder whether I should read the book. I know not everyone feels this way, and I almost didn't include this book on the list just because I didn't feel like going into my reasons for not finishing it. I still have the book on my shelf. I set it down for now. Maybe I'll pick it up and finish it one day, but I'm just not sure yet.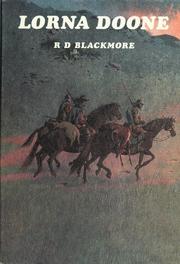 Lorna Doone~R. D. Blackmore
Good, but not as good as the movie. Too long and drawn-out sometimes. I liked how it was written from 1st person (John's) perspective. Carver having multiple wives and a son was weird. Lorna was sweet.
Ann Rutherford and the Key to Nathmare Hall-Kathryn Heisenfelt
This is an old children's mystery book published in 1942. The plot was "different" and I suppose being locked in a house against your will until someone finds the key is suspenseful but I just didn't care for it. The heroine, Ann, (based on the actress) was pretty dumb and annoying. It reminds me of low-budget mystery films made back then. Entertaining when you watch them, but not very memorable.
Donna Parker in Hollywood-Marcia Martin
Another older children's book, published in 1961. Cute and sometimes funny. I loved the 1960's time period and the "fun" of being a teenager back then. It had a mystery aspect to it as the heroine loses a small decorative "god" (which I thought was weird) that was going to be a present for her aunt and uncle. Just so-so. I probably wouldn't read it again.
Heart's Lonely Secret-Jane Peart
Not my favorite Orphan Train West book. I've read three other books from the series and liked them much better. This one was kind of boring, and
very
anticlimactic. The plot was slow. The heroine, Ivy, annoyed me. I wish she had met the circus people (her first adoptive family) again, as that would have been interesting.
The worst part of this book was the last sentence:
"Ivy closed her eyes for Baxter's kiss."
UGH. NO. No no no no no no no. That is not how you end a book. Just NOPE. (Oops, I gave away a spoiler, though, didn't I? haha)
Greenwillow~ B. J. Chute
Sweet, lovely, quiet, and quaint. The story doesn't go beyond the small village it's set in, but it's interesting and fun to read just the same. Dorie was so adorable. Gideon (one of my FAVORITE guy names!) was a strong, sensible, responsible hero-I loved him. The whole story is just so sweet! It's humorous and beautiful and the characters are lovely. I absolutely adored Gideon's little brother, Mica. Do read this book if you enjoy quiet, gentle stories with a sweet romance.
Resistance~Janet Graber
Ugh, Where do I start? This was the worst book out of all the ones I'm reviewing in this post.
It started out interesting and I liked it. Then it started going down hill. I didn't finish this book.
This is
labeled
as a juvenile fiction book. It was terrible. There was profanity and overly gross descriptions of a messed-up General trying to molest the 15 year old heroine.
Um, What? This is a children's book????
I skimmed the ending to find out what happens and it was absolutely horrible. Someone you wouldn't want to die dies. The mother of the heroine kisses an English soldier they've been giving shelter to....who has a wife and children back in England. (???) The 15 year old heroine practically gets engaged to a 22 year old soldier whom she's known for about half of the book.....it was one of the worst books I've ever read.
Do not read this book. Just don't.
The Screwtape Letters~C. S. Lewis
This was such a good book. C. S, Lewis is pure gold, everyone. He's brilliant.
It made me
think
and ponder the things presented in the book-and yet, I feel I need to read it up to 100 times to grasp everything I can out of it! It's entertaining and convicting and thought-provoking. Even though it's fiction, it almost feels like nonfiction because the things presented in the book are so real and relevant to us today. I would recommend this book to any mature Christian (I think ages 15 or 16 up would be good-depending on your parents, of course).
Behold the Dawn~K.M. Weiland
Oh my, where do I start with this book??? It was given to me by two dear friends (you know who you are! ;)) and I am so thankful they did because I
loved
this book! I have so much to say about it that I'm not going to say
anything
here. I'm going to try to review it sometime soon.
The Two Towers~J.R.R. Tolkein
Okay, so I actually haven't
finished
it yet, but my word. It's amaaazzzing.
J. R. R. Tolkien has such talent with story telling and words that it's unreal. He's quickly become one of my favorite authors. I loved
The Fellowship of the Ring
, but I might like
The Two Towers
even better. I'm just head over heels in love with this story, and although I know what happens, I can't
wait
to read
Return of the King
!!
Pollyanna-Eleanor H. Porter
I feel like I might be betraying my claim to being a book lover when I say...I actually liked the movie better! It was a sweet and nice book (definitely one I'd like my daughter to read someday...if I have one!) but Pollyanna annoyed me sometimes (she talks more than Anne Shirley!) and I liked some of the things they changed in the movie. I do think some things that were in the book could have been kept in the film, though.
And that's that! I've read 14 books this summer....plus a few from the library and what not. I still have a bunch on my list, though, and so that makes me wonder...would you like to see another post like this?
I enjoyed sharing the books I liked (and didn't like) with you all, so if you'd be interested in more I'd be glad to do so! Please tell me your thoughts!
And, have you read any of the books in this post?
Do you agree or disagree with my thoughts on them?
Thanks for reading!!